A Top New England Breeder
of the "American Gentleman"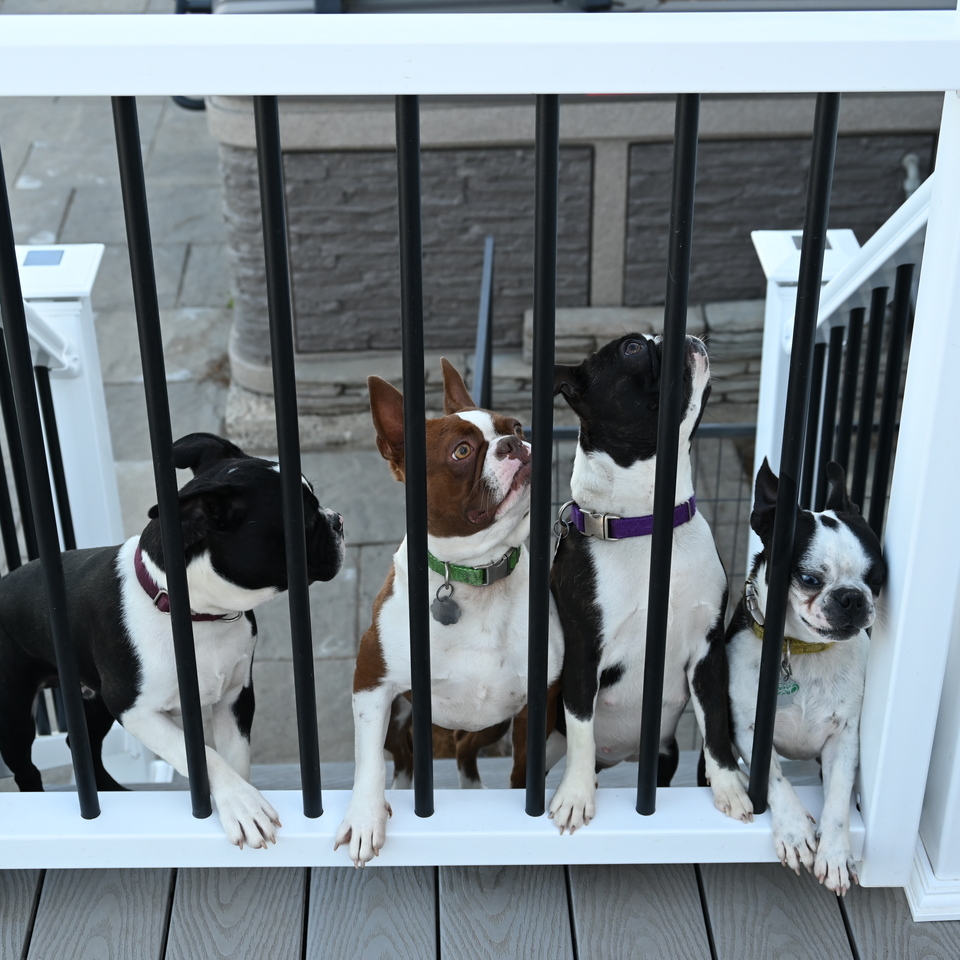 Here at New England Boston Terriers, we specialize in the breeding and raising of AKC Boston Terriers. When considering a puppy from any breeder, make sure your pup is AKC registered. A pup without papers usually means the breeder does not have permission to breed their dogs or doesn't know the history of the parents. Other reasons are that it's the only way you know you are getting a purebred puppy or one that was crossbred with same bloodlines. All of our parents are on site, make sure your breeder is actually the breeder. 
Our pups range in color from red, to blue to brindle to fawn and  – of course – the always popular black and white beauties. Our location has plenty of space for the pups to run and play, and we offer the best care for our puppy parents and the little pups. 
Please note that we mate for the love of the breed and care about the well being of our puppies. Having said that, we reserve the right to refuse to home one of our pups to anyone we do not feel is fit to care for him or her. Owning a puppy is an expense and a commitment. Even though we charge for our service,  we just don't let anyone take our babies, it is a privilege to own one of these beauties!
We have multiple females and have litters all of the time. If you would like to get on our waiting list contact us. Please note our current wait time is approx. 0-2 months. Please like our Facebook page for the latest news!
Get to know some of our puppies and parents! We have 'em in all shapes and sizes – it just depends on what your family is looking for in its latest addition. As you can see our dogs are a lively bunch and we can't wait for you to meet them!
 
From our new Boston Terrier Parents
"I got my puppy from Jeff two months ago and very happy with my decision. From the very beginning the puppy was healthy, happy, easy to train, well mannered. I am not experienced dog owner but I could tell the puppy was cared for very well because he was calm and not afraid of people or other dogs. My vet told me that puppy is in great health. Also when I visited my puppy I noticed that all Jeff's dog's area is extremely well organized and cared for. I would highly recommend Jeff's puppies because I am very happy with mine"
"My experience with Jeff from the beginning of adding my name to his puppy list has been great. We picked up our Pup last night. She had a great night with us. She is so lovable and has a great temperament. I look forward to working with Jeff in the future when we decide on getting an additional Pup."
"I just picked up my puppy on Monday and I couldn't be happier. He is loving, playful and very smart. This is my first dog- I have had cats all of my life. Jeff was very helpful and knowledgeable. I was on the waiting list for several months but it was well worth it. "
"The communication was fantastic from the moment we enquired through to the end, when we picked up our new baby. Jeff was very thorough with details, pictures and information regarding the litter(s)! We have had Ruby for a little over a month and she is fitting in wonderfully with our family. I will be contacting Jeff again, when the time comes for another addition and will highly recommend him to others. Thank you"
"Jeff is awesome! He is very responsive to questions before and after you get one of his puppies. He loves these Bostons and it shows. We just brought our puppy home yesterday and could not be happier! His temperament is great, he is doing fabulous with housebreaking, and with only one small incident last night, he slept great! Did I mention that he is stinking ADORABLE? I would definitely recommend - a very positive experience!"
"Jeff made the process seamless. We waited on his wait-list for a few months, it was well worth it! He always was quick to respond and answered any question we had. He posted regular updates so we got to watch our puppy grow while waiting those long 8 weeks in anticipation. We got the most beautiful brindle baby girl, she is so smart, well-behaved, healthy and one of the cutest things I've laid my eyes on. I highly recommend him as a breeder!!"
"We recently got our new baby Louie(6/17/20) and we cannot say enough about Jeff❤️. I contacted Jeff last fall looking for a Boston at the time he did not have one. 9 weeks ago Jeff messaged me to let me know he had a liter. From our first message Jeff was highly responsive with updates, pics and videos. Our experience adopting from Jeff was amazing, he is personable and highly supportive. We would strongly recommend New England Boston Terriers. Our puppy Louie is awesome❤️. Highly socialized and ready to be part of your family❤️"
"I would highly recommend NEBT's. We picked up our puppy yesterday and had a great experience. You could tell immediately that all of the dogs are cared for and loved. We are first time dog owners and could not have asked for a better experience. They were responsive to all of my questions as we prepared to take him home. We will definitely return when we are ready for our second".
"Just brought home the most precious little Boston, Gillette. From night one she has not soiled her crate and has slept through the night without a peep. This is my 4th Boston and my 6th dog to train and she is the smartest.. I do credit Jeff for preparing her to make such strides. TY"
"Absolutely recommend NEBT - I never imagined having a little dog when I had always had Saints, German Shepherds and Labs growing up. Rosie who was born 01/18/2019 made me realize that a little dog has the biggest heart and awesome personality and loves and protects my grandchildren and I would be so lost without her ! Jeff hand raises each little puppy with so much care and love and prepares them with socializing and beginning of puppy training. If your looking for a BT choose NEBT you won't be disappointed."
"I would highly recommend going to Jeff for your B. T. Puppy. They are family raised with all the love and care you could ask for. I waited for a year to get mine because I wanted one of his. They are happy, healthy, and beautiful. Personalities are awesome".